So yesterday at Beaker Luv's baby shower I was asked the inevitable question asked of all single girls at social gatherings... "So are you seeing anyone new?"

Ok before I begin this story let me vent for a second here. I love my friends, immensely, but I gotta tell you, sometimes it is hard being the minority. (Single) If it weren't for Ebs, my trusty "old faithful", I wouldn't even have a single friend to hang out with here in Orlando. (Damn you Crazy B for living in Brandon!!!) And although I will admit my tales of dating are in fact hilarious, sometimes it gets depressing to be amongst the coupled and married. Nothing increases the stock of a boyfriend/husband sitting at home quite like a single friends account of a first date gone awry... therefore I am, at the expense of my dignity, providing not only entertainment to my friends but also helping them appreciate their coupledom all the more. I want to be a couple DAMN IT!!!

Ok enough whinning... on to the tale of Sloth Toe. Last friday night I met ST downtown at Happy Hour after work. I was hanging out with some old work croonies and ST happened to stroll by and smile at me. I smiled back. He was cute but not exactly my "type" but I gave him a chance and he proceeded to chat my ear off for the rest of the time I was there and convinced me to give him my number before I left.

Over the rest of the Memorial weekend we exchanged a few texts and Monday night Ebs and I stopped by his work to grab a drink before going to Blue Man Group. He was charming, polite and even sent us over an appetizer. (Score 10 points for ST.) After BMG Ebs and I hit the bars of City Walk in what would inevitably turn out to be a poor decision. One too many fruity drinks and beers later ST meets up with us after his shift... at 12 am. I won't even go into details here but let's say it was not pretty. More like HOT MESS.

The next morning with a hang over from h*ll I had to call Ebs to review the night and decide whether or not it was a total loss. Apparently it wasn't. She confirmed that while I was definitely "tipsy" she didn't think I was that bad and that ST seemed to think I was endearingly cute. WTF?! An hour later a text from ST confirmed this. He wanted to hang out again.

Fast forward to Thursday. I'm at my night job and ST stops in for a drink. He sits at the bar, alone and proceeds to drink 5 beers. (

Is he getting me back for Monday night?

) He leaves clearly tipsy and tells me he'll see me at his place. (We have plans to watch the Magic game that night.) I get off work and head over to his place where he meets me with a glass of wine in hand and we settle in on the couch to watch the game. It is at this point that he gets comfortable. It is at this point that he plops his feet up on the coffee table, in direct line of vision to the TV and I see his bare feet.

Or rather his SLOTH TOES!!!!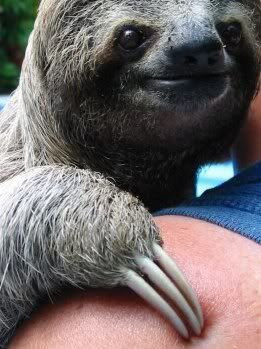 I kid you not his toe nail's were longer than his toes and pointy!!! OMG!!! First off I have serious issues with feet, I don't like them, I don't want them to touch me, I don't want anyone to touch mine! Second off I have this issue with toe nails and it grosses me out to almost revulsion if people have long toe nails, mine own cut as short as humanly possible.

And that my friends was the deal breaker. I did my time and left, well more like sprinted, THE minute the game ended.

The ladies at the baby shower erupted in laughter and voted that once again I have the best dating stories ever. I swear I"m not picky but I draw the line at personal hygiene. I mean seriously, even if he were to clip those daggers of death I'd never be able to stop thinking about them. I throw up in my mouth a little just reliving the moment. So that was that, back to the single pool I go... *sigh*

In other news I finally got around to putting together a shadow box showcasing my medal from the Gasparilla Half. Check it out!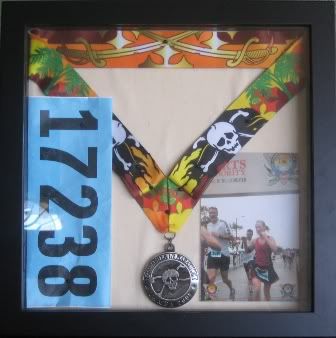 20 more weeks til Chicago Marathon! OMG!!!